Posted by Sergio on 2009-11-04
A month or so ago I bought a Blu-ray player. I waited a bit to buy one of those because, frankly speaking, the improved image quality and any bonus features in the discs weren't attractive enough for me to replace the DVD player.
I also wanted a networked player that could stream movies from my Netflix queue. To make matters worse, running a CAT-5 cable from my basement (where my wireless router lives) to the bedroom (the BR player's final destination) wasn't really something I was looking forward to.

That's when I did some shopping around and came across the LG BD390 Wi-Fi-enabled Blu-ray player. It supports wireless 802.11n and access to a few online services like YouTube, Netflix and VUDU. It can also find media in my home network.
Note: I know there's always someone that will come suggest taking a look at the PS3 or XBOX can do some or all of that. I'm not a gamer so I didn't want to have a gaming console in my bedroom and deal with issues related to the not being a simple player aspects of the device (like maybe having to buy extra adapters/connectors, remote control, and what-have-you). It's probably a no-brainer if you're into video games. Did I say I do not buy Sony?
Welcome LG BD390
So I went and bought the LG BD390 and installed it where it was supposed to be. I was a little worried about not having the 802.11n router setup yet (it was still on its way) but I decided to give it a shot even on my 5-year old 802.11g router. I thought maybe I wouldn't get HD streaming or choppy video, but at least I would get a feeling about the device's capabilities while I waited for the new router to arrive.
Works great on wireless-G
To my surprise, the LG BD390 worked great over wireless-G. Setup is incredibly easy (the only hard part was really entering the long WPA password using the on-screen keyboard.) It boots up fast. Within 5 minutes from its first power-on it had already found and updated its firmware, I had activated my Netflix streaming and The Office was streaming in HD on my TV.
Best gadget purchase in years. This device will definitely change the way I watch movies and TV series, and listen to music (BTW, since it's easy to upgrade the firmware and other LG products offer Pandora, here's to hoping the BD390 gets that too soon.)
But not so fast. Bad wireless-N surprise.
You'd think that by upgrading my network to wireless-N would only make the whole experience much better, right? Me too.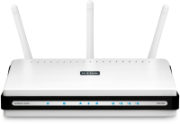 I upgraded my trusty wireless-G router with a shiny new D-Link DIR 655 wireless-N Gigabit model. It has some interesting features, USB port, decent firmware features (well, read on,) and seems rather popular anyway.
Once I configured it to the exact same network settings as the previous router, I checked the laptops were working fine with it and went straight to enjoy some more streaming on my Blur-ray player. I immediately noticed that the signal strength had dropped from 5 bars to 2, 1, and sometimes no bars at all. Even when a couple of bars were there, it wouldn't even browse my local network.
I even tried using a cheap-o router in repeater mode but it didn't play well with my D-Link router and even the laptops would lose connectivity at random when this thing was active — I ended up returning it.
A month later (and a few lost frustrating hours) later I came across this post on the Amazon reviews for the player. Basically, even though there was a new firmware available, the router insisted in telling me it had the latest one. And it just so happens that the firmware it had (v1.2) had some serious bugs. Short version, many times it would not work at all with the Blu-ray player.
I followed the suggested instructions and things are much better now. I still get a very weak signal but at least I'm able to consistently stream HD content. I hope the next version of the BD390 comes with an external antenna. I might try another router and see if they have a stronger signal — this seems to be a common complaint about this D-Link model.
So if you're in the market for a Blu-ray player I can recommend LG's BD390 but I'd suggest you search the web for any issues with your wireless-N router (unless you're planning to wire it up, in that case I recommended it 100%). If you're buying your router together with the BR player, buy it from a store that you can easily return it in case it doesn't work well with the BR player. On the other hand, if you're looking for a new router, I cannot recommend D-Link's DIR 655.